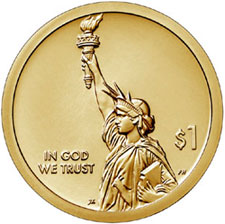 The American Innovation Dollars will have a single coin released during the introductory year, following by four different coin released per year for the duration of the series. A different reverse design will be issued for each of the 50 states, the District of Columbia, and the 5 U.S. territories. This will result in a total of 57 designs released between the years 2018 to 2032.
The authorizing legislation provides that the coins shall be issued for the states in the order that they ratified the Constitution or were admitted into the Union. The states will be followed by the design issued for the District of Columbia. Finally, the designs for the territories will be released in the following order: Puerto Rico, Guam, American Samoa, the U.S. Virgin Islands, and the Northern Mariana Islands.
Since the American Innovation Dollars are only offered as numismatic coins, the release dates represent the date that the uncirculated versions of the coins were offered for sale by the United States Mint.
| Year | Jurisdiction | Design | Release Date |
| --- | --- | --- | --- |
| 2018 | Introductory | First Patent | December 14, 2018 |
| 2019 | Delaware | Classifying the Stars | September 19, 2019 |
| 2019 | Pennsylvania | Polio Vaccine | October 24, 2019 |
| 2019 | New Jersey | Light Bulb | November 21, 2019 |
| 2019 | Georgia | Trustees' Garden | December 19, 2019 |
| 2020 | Connecticut | Gerber Variable Scale | July 21, 2020 |
| 2020 | Massachusetts | Telephone | October 29, 2020 |
| 2020 | Maryland | Hubble Telescope | November 23, 2020 |
| 2020 | South Carolina | Septima Clark | January 19, 2021 |
| 2021 | New Hampshire | Home Video Game System | June 8, 2021 |
| 2021 | Virginia | Chesapeake Bay Bridge-Tunnel | July 27, 2021 |
| 2021 | New York | Erie Canal | August 31, 2021 |
| 2021 | North Carolina | First Public University | October 12, 2021 |