Informative Guide to American Innovation Dollars
The American Innovation $1 Coin Program recognizes and celebrates the Nation's innovation and pioneering spirit. The coin series will honor significant innovation and innovators from each of the 50 states, the District of Columbia, and the 5 U.S. territories through a series of rotating reverse designs.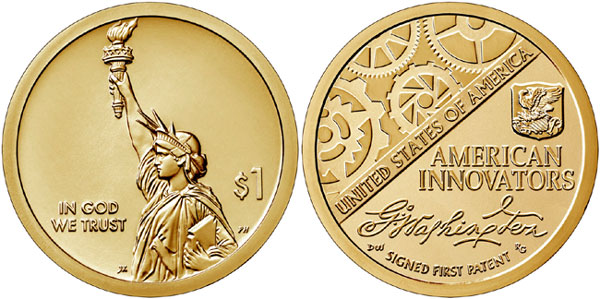 A total of 57 different designs will be issued between 2018 and 2032, consisting an introductory issue released in the first year and four designs per year for the duration of the series. The coins will be issued in the order the states ratified the Constitution or were admitted to the Union, followed by coins for the District of Columbia and the Territories.
Legislation
The program was authorized under the American Innovation $1 Coin Act, which was signed into law by the President Donald Trump on July 18, 2018. The series officially launched on December 14, 2018 with the release of the introductory coin celebrating the issuance of the first American patent. The patent was issued for developing a process for making potash, an ingredient found in fertilizer. The reverse design features stylized gears to represent industry and innovation, along with George Washington's signature.
Obverse Design
The obverse design for all coins of the series features a dramatic representation of the Statue of Liberty, which extends from the rim of the coin. The inscriptions include "IN GOD WE TRUST" and the denomination expressed as "$1." Starting in 2019, each obverse design also incorporates a privy mark of a stylized gear to represent industry and innovation. A new privy mark is used for each year of the series.
Reverse Design
Starting in 2019, each reverse design features an image or images emblematic of a significant innovation, an innovator, or a group of innovators from each state, district, or territory. The subject and design for each coin is selected by the Secretary of the Treasury following a development and consultation process involving the United States Mint, the governor or chief executive of the jurisdiction, the Commission of Fine Arts, and the Citizens Coinage Advisory Committee.
The reverse is required to contain the inscriptions "UNITED STATES OF AMERICA" and the name of the jurisdiction. Each coin also contains edge-incused inscriptions of the date, mint mark, and "E PLURIBUS UNUM."
Not Issued for General Circulation
The American Innovation Dollars are considered numismatic items and are not issued for general circulation. The United States Mint has offered various numismatic products for sale to the public, which incorporate the coins.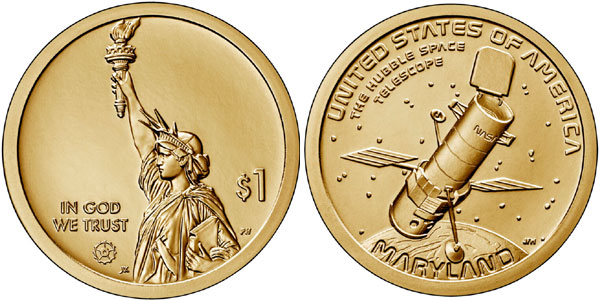 Uncirculated versions of the coins struck at the Philadelphia and Denver Mint facilities have been available in 25-coin rolls or 100-coin bags. Proof versions struck at the San Francisco Mint have been available within an annual Proof Set. Finally, Reverse Proof versions struck at the San Francisco Mint have been available individually or within sets.