The 2020 South Carolina American Innovation Dollar represented the eighth regular issue of the series. The coin honors educator and civil rights activist Septima Clark.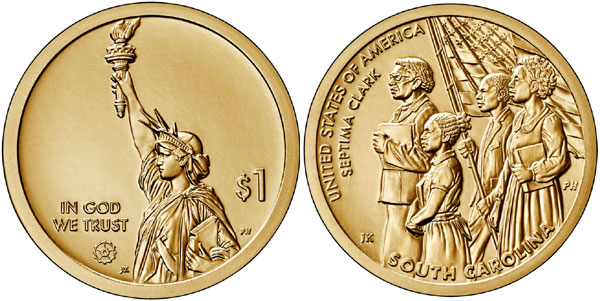 Septima Poinsette Clark was born on May 3, 1898 in Charleston, South Carolina. She developed literacy and citizenship workshops to use education to empower marginalized groups during the Civil Rights Movement. She became known as "Mother Conscience" and Dr. Martin Luther King, Jr. referred to her as "The Mother of the Movement." Her educational initiatives spread and were adopted by the Southern Christian Leadership Conference.
The reverse design depicts Septima Clark marching with three young African American students carrying books and an American flag. This is intended to represent that education and literacy among oppressed people is necessary for empowerment and the enjoyment of civil rights. The reverse was designed by Justin Kunz and engraved by Phebe Hemphill.
2020 South Carolina American Innovation Dollar Specifications
Composition: 88.5% copper, 6% zinc, 3.5% manganese, 2% nickel
Diameter: 26.5 mm
Weight: 8.1g
Thickness: 2.0 mm
Edge: Lettered