The 2021 North Carolina American Innovation Dollar (Buy on eBay) represented the twelfth regular issue of the series. The coin recognizes the University of North Carolina at Chapel Hill, which was the first public institution of higher learning in the United States.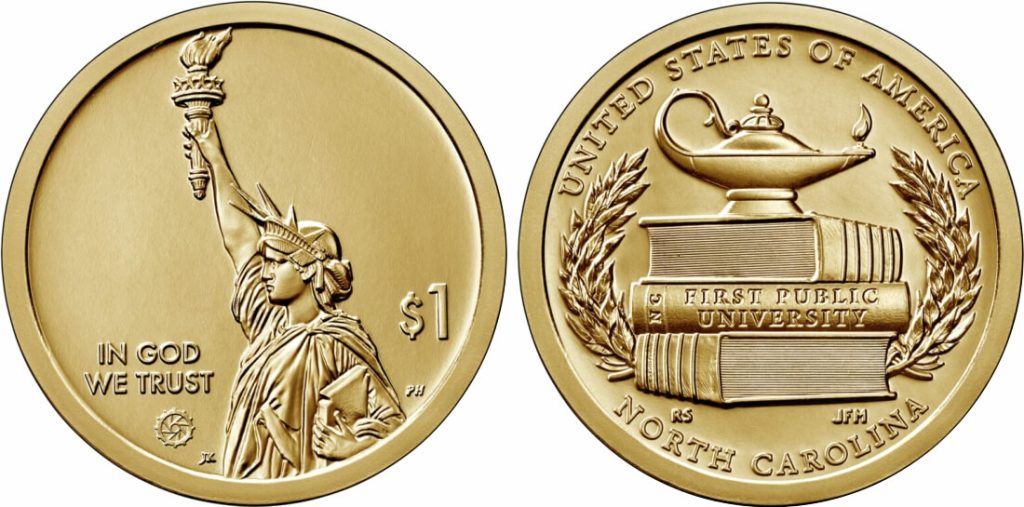 The university was chartered in 1789 and began enrolling students in 1795. It is the only public university in the United States to have held classes and graduate students in the 18th century. It continues to operate as a public flagship research university and is considered a "Public Ivy," or public institution, that delivers an academic experience similar to private Ivy League universities.
The reverse design features a stack of three textbooks with the lamp of knowledge atop the textbooks. The spine of the middle book contains the words "FIRST PUBLIC UNIVERSITY" with additional inscriptions reading "UNITED STATES OF AMERICA" and "NORTH CAROLINA." The reverse was designed by Ronald D. Sanders and sculpted by Joseph Menna.
Specifications:
Denomination: $1.00
Composition: 88.5% copper, 6% zinc, 3.5% manganese, 2% nickel
Diameter: 26.5 mm
Weight: 8.1g
Thickness: 2.0 mm
Edge: lettered
Mint Mark: "P" (Philadelphia), "D" (Denver), "S" (San Francisco)
Mintages:
2021-P: 405,950
2021-D: 389,725
2021-S Proof: 69,489
2021-S Reverse Proof: 43,204
Other 2021 American Innovation Dollars:

< New York | Rhode Island >