The 2021 New Hampshire American Innovation Dollar represented the ninth regular issue of the series. The coin recognizes the invention of the first home video game console by Ralph Baer.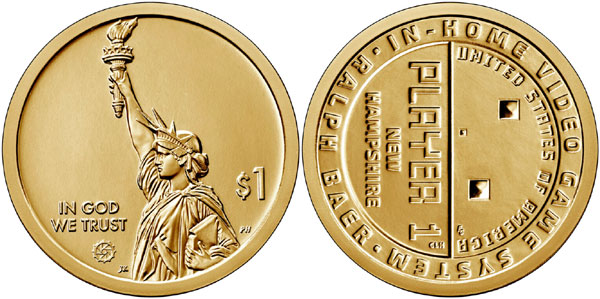 While working in Nashua, New Hampshire in 1966, Ralph Baer conceived the idea of playing video games on a television screen. Working with his team, he developed the "Brown Box," which was a prototype for the first home video game console. The technology would be licensed by Magnavox for the Magnavox Odyssey, and Baer would continue to design other consoles and computer game units. He is considered the "the Father of Video Games" for his many contributions.
The right side of the reverse design depicts the "Brown Box" game "Handball" with inscription "United States of America." The left side includes the inscriptions "Player 1" and "New Hampshire." Additional inscriptions appear surrounding, which read "In Home Video Game System" and "Ralph Baer". The reverse was designed by Eric David Custer and engraved by Christina Hess.
2021 New Hampshire American Innovation Dollar Specifications
Composition: 88.5% copper, 6% zinc, 3.5% manganese, 2% nickel
Diameter: 26.5 mm
Weight: 8.1g
Thickness: 2.0 mm
Edge: Lettered