The 2018 American Innovation Dollar was intended to serve as an introductory coin for the series honoring innovation and innovators. This coin represented the only release of the year for 2018. Future years will feature four different designs per year during the 15-year duration of the series.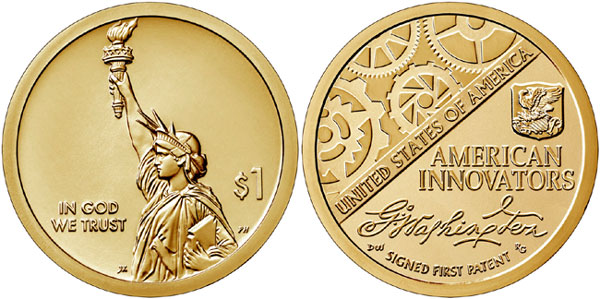 The reverse design of the coin pays homage to the first United States patent issued by President George Washington to Samuel Hopkins on July 31, 1790. The patent was issued for developing a process for making potash, an ingredient found in fertilizer.
The design includes stylized gears to represent industry and innovation, along with George Washington's signature. The inscriptions read "United States of America", "American Innovators", and "Signed First Patent". The reverse was designed by Donna Weaver and sculpted by Renata Gordon.
2018 American Innovation Dollar Specifications
Composition: 88.5% copper, 6% zinc, 3.5% manganese, 2% nickel
Diameter: 26.5 mm
Weight: 8.1g
Thickness: 2.0 mm
Edge: Lettered