The 2020 Connecticut American Innovation Dollar was the fifth regular issue of the series. The coin recognizes the invention of the Gerber Variable Scale.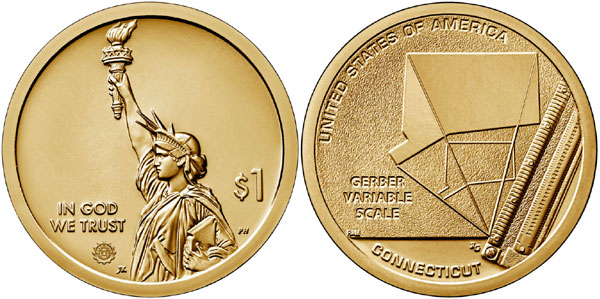 Heinz Joseph Gerber was the founder of Gerber Scientific and a prolific inventor who was granted more than 650 patents during his lifetime. While in college, he invented the Gerber Variable Scale, which used a triangular calibrated spring to solve a variety of problems involving proportions, interpolations, and scaling. It has been called the most revolutionary engineering tool since the slide rule.
The reverse design depicts the Gerber Variable Scale being used to increase the scale of a drawing of Connecticut by 200 percent. The inscriptions read "United States of America", "Gerber Variable Scale", and "Connecticut". The reverse was designed by Richard Masters and sculpted by Renata Gordon.
2020 Connecticut American Innovation Dollar Specifications
Composition: 88.5% copper, 6% zinc, 3.5% manganese, 2% nickel
Diameter: 26.5 mm
Weight: 8.1g
Thickness: 2.0 mm
Edge: Lettered