The 2021 New York American Innovation Dollar represented the eleventh regular issue of the series. The coin recognizes the Erie Canal, which was completed in 1825.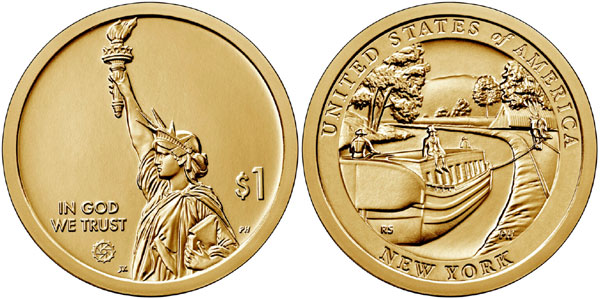 The Erie Canal was a 363-mile long man-made waterway which connected the Great Lakes with the Atlantic Ocean via the Hudson River in upstate New York. Constructed through mountainous terrain and dense rock, it was considered a major engineering feat at the time of its completion. The canal provided a direct route from the Midwest to New York City and triggered immense commercial and agricultural development.
The reverse design depicts a packet boat being pulled from a city in the East toward the rural areas to the West. The inscriptions include "United States of America" and "New York". The reverse was designed by Ronald D. Sanders and sculpted by Phebe Hemphill.
2021 New York American Innovation Dollar Specifications
Composition: 88.5% copper, 6% zinc, 3.5% manganese, 2% nickel
Diameter: 26.5 mm
Weight: 8.1g
Thickness: 2.0 mm
Edge: Lettered