The 2020 Maryland American Innovation Dollar represented the seventh regular issue of the series. The coin honors the Hubble Space Telescope.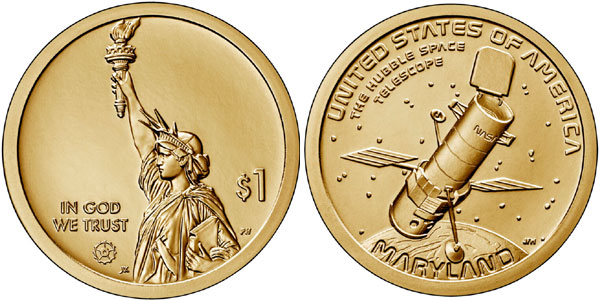 The Hubble Space Telescope was developed by National Aeronautics and Space Administration (NASA) and launched into low Earth orbit in 1990. Since the telescope is positioned above the distortion of the Earth's atmosphere, it is able to capture an unobstructed view of the universe. Its five main instruments can obverse in the ultraviolet, visible, and near infrared regions of the electromagnetic spectrum. The telescope was designed to be maintained in space by astronauts and still remains in operation.
The reverse design depicts the Hubble Space Telescope orbiting Earth and surrounded by a field of stars. The inscriptions in a the typeface used by NASA read "United States of America", "Hubble Space Telescope", and "Maryland". The reverse was designed and sculpted by Joseph Menna.
2020 Maryland American Innovation Dollar Specifications
Composition: 88.5% copper, 6% zinc, 3.5% manganese, 2% nickel
Diameter: 26.5 mm
Weight: 8.1g
Thickness: 2.0 mm
Edge: Lettered