The 2019 Delaware American Innovation Dollar was the first regular release of the series. The coin recognizes Annie Jump Cannon, who developed a system for classifying the stars that is still used today.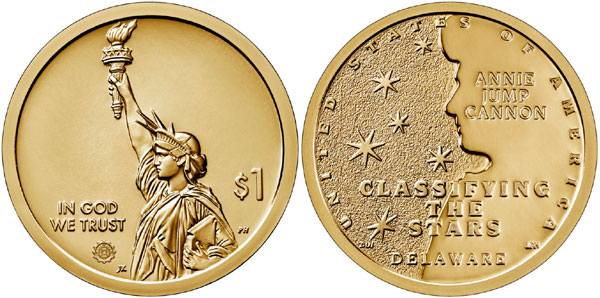 Annie Jump Cannon was born on December 11, 1863 in Dover, Delaware. At a young age, her mother taught her the constellations, leading to a lifelong interest in astronomy. While working as an assistant to E. C. Pickering at the Harvard Observatory, Cannon combined two known models to create her own system for classifying the stars. During her lifetime, she would go on to classify more than 225,000 stars and receive an honorary doctorate from Oxford University.

The reverse design of the coin features a silhouette of Annie Jump Cannon against the starry night sky. The inscriptions include "United States of America", "Annie Jump Cannon", "Classifying the Stars", and "Delaware". The reverse was designed by Donna Weaver and sculpted by Joseph Menna.
2019 Delaware American Innovation Dollar Specifications
Composition: 88.5% copper, 6% zinc, 3.5% manganese, 2% nickel
Diameter: 26.5 mm
Weight: 8.1g
Thickness: 2.0 mm
Edge: Lettered