The 2019 Pennsylvania American Innovation Dollar was the second regular issue of the series. The coin honored the discovery of the polio vaccine by Dr. Jonas Salk and his team.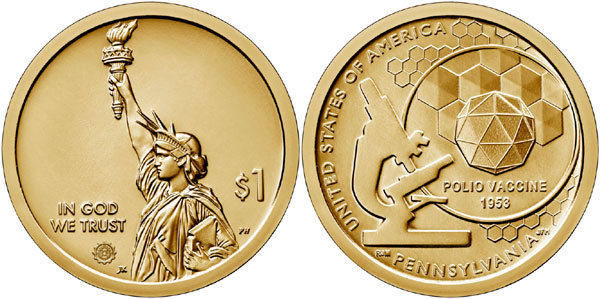 The University of Pittsburgh hired Dr. Jonas Salk in 1947 to develop a polio vaccine. At the time, this devastating disease was affecting the lives of children and young adults, leaving many of them paralyzed. In 1953, the discovery of the vaccine was announced and after two years of clinical trials, it was determined to be safe and effective. The widespread administration of the vaccine effectively eliminated polio and has been recognized as one of the greatest achievements in the history of medicine.
The reverse design of the coin features the silhouette of a microscope with an image of the polio virus at three different levels of magnification. The inscriptions read "United States of America", "Polio Vaccine", "1953", and "Pennsylvania". The reverse was designed by Richard Masters and sculpted by Joseph Menna.
2019 Pennsylvania American Innovation Dollar Specifications
Composition: 88.5% copper, 6% zinc, 3.5% manganese, 2% nickel
Diameter: 26.5 mm
Weight: 8.1g
Thickness: 2.0 mm
Edge: Lettered