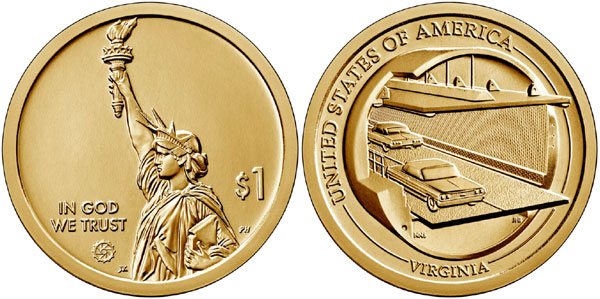 The 2021 Virginia American Innovation Dollar represented the tenth regular issue of the series. The coin recognizes the Chesapeake Bay Bridge-Tunnel, which connects Southeastern Virginia to the Delmarva Peninsula.
The Cheasapeake Bay Bridge-Tunnel was opened in 1964 and spans more than 17 miles. The bridge-tunnel complex consists of 12 miles of trestle, two one-mile long tunnels, four artificial islands, four high-level bridges, two miles of causeway, and 5.5 miles of approach roads. It is the world's largest bridge-tunnel complex and was designated as one of the seven engineering wonders of the modern world.
The reverse design depicts a cross-section cut-away of the Chesapeake Bay Tunnel to highlight the engineering ingenuity involved. The inscriptions include "United States of America" and "Virginia". The reverse was designed by Matt Swaim and sculpted by John P. McGraw.
2021 Virginia American Innovation Dollar Specifications
Composition: 88.5% copper, 6% zinc, 3.5% manganese, 2% nickel
Diameter: 26.5 mm
Weight: 8.1g
Thickness: 2.0 mm
Edge: Lettered