The 2020 Massachusetts American Innovation Dollar (Buy on eBay) was the sixth regular issue of the series. The coin honors the invention of the telephone.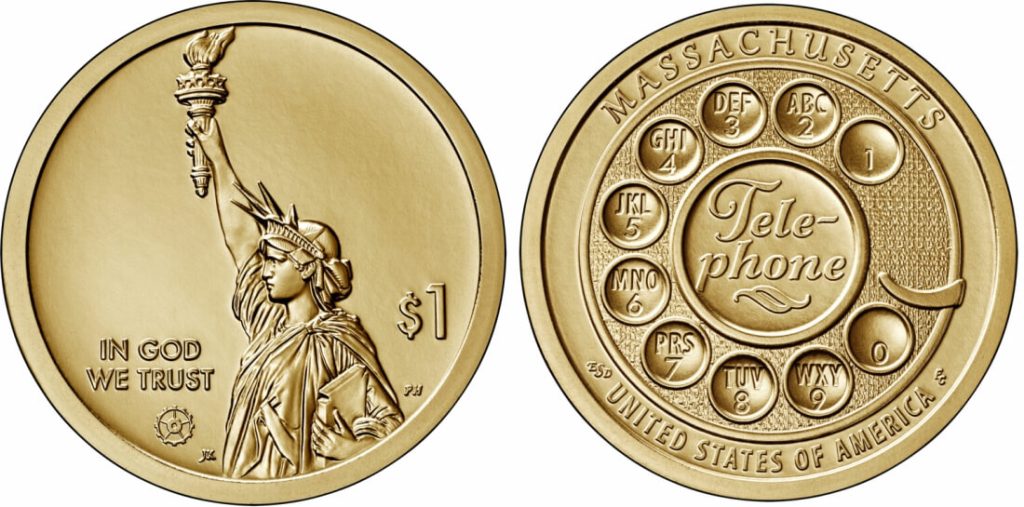 Alexander Graham Bell was an inventor, scientist, and engineer. He is best known for inventing the telephone and co-founding Bell Telephone, which eventually became the American Telephone and Telegraph Company (AT&T). He was awarded the patent for the telephone on March 7, 1876. Three days later, he spoke the famous first words into his invention: "Mr. Watson—Come here—I want to see you." His assistant, Thomas Watson, received the words in the next room, changing communications forever.
The reverse design features an early rotary dial telephone. The rotary dial contains the digits and numbers with "Telephone" in the center. Additional inscriptions read "MASSACHUSETTS" and "UNITED STATES OF AMERICA." The reverse was designed by Eric David Custer and sculpted by Emily Damstra.
Specifications:
Denomination: $1.00
Composition: 88.5% copper, 6% zinc, 3.5% manganese, 2% nickel
Diameter: 26.5 mm
Weight: 8.1g
Thickness: 2.0 mm
Edge: lettered
Mint Mark: "P" (Philadelphia), "D" (Denver), "S" (San Francisco)
Mintages:
2020-P: 436,750
2020-D: 436,425
2020-S Proof: 101,593
2020-S Reverse Proof: 43,258
Other 2020 American Innovation Dollars:

< Connecticut | Maryland >